☆ WWE 2002-2009 ☆
Over summer I binged a bunch of PPVs from 2002-2009.
Here are my favs from this era!

Edge aka Adam Joseph Copeland & Christian aka William Jason Reso
Edge and Christian are one of the most iconic tag-teams in history for a reason. For me, they're the epitome of charismatic 90s cool dudes. The fact that they're childhood friends and as close as brothers makes me love them even more, it's such a touching special relationship. I also love them both as solo wrestlers! Edge's heel turn and overall level of popularity in the mid-2000s was so awesome for me because I love his wrestling style and personality, whether it's on the mic or just his overall demeanor. But under his wrestling persona I know he's such a sweet and genuine person with a love for his craft and that makes me so happy. And Christian! I miss Christian, he's been gone for a while at that point where I am. I've seen some of the Edge & Christian Show (That Totally Reeks of Awesomeness) and I literally love it unironically? Like they're both so funny and charismatic and I love seeing them together. Definitely two of my all-time favorite wrestlers.
Edge's birthday is October 30th (another Scorpio) and Christian's is November 30th (a Sagittarius).
Signature moves: Con-chair-to, double flapjack, double spear.
[Edge only]: Edge-o-matic (impaler DDT), spear. [Christian only]: Killswitch, frog splash.
'Hardy Boyz' Jeff & Matt Hardy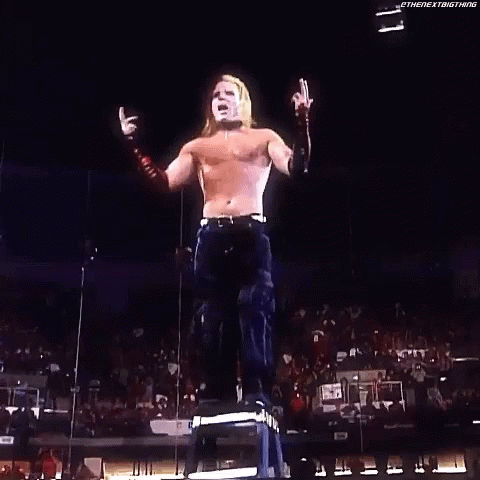 Matt and Jeff are so passionate about wrestling and knowing how happy it makes them even after going through all the shit with their drug addictions and everything, I love them. They're also absolute fucking icons of the early 2000s! Jeff Hardy is one of the most iconic portrayals of late 90s mallgoth fashion and I absolutely adore it, seeing as that's one of the aesthetics that inspired me to make this site. The Boyz' match with Edge & Christian/the Dudleys at Mania X-7 is one of my all-time favorites. I also absoltely love everything that Matt and Jeff did with the 'broken' thing at Impact wrestling, it's fucking hilarious and I just love it so much because it shows their absolute love for what they do and how much fun they have messing around as brothers. Their entire persona and moveset is awesome and they're total favs both together and apart : )
Jeff's birthday is August 31st (a Virgo). Matt's is September 23rd (a Libra like meee).
Signature moves: Event Omega (diving guillotine leg drop [Matt] / diving splash [Jeff]), Poetry in Motion, Rapture, Spin Cycle
[Jeff only]: Swanton Bomb, Extreme Twist of Fate (inverted facelock neckbreaker slam).
[Matt only:] Twist of Fate, Ice Pick (double underhook w/ bodyscissors).
Chris 'Y2J' Jeircho aka Christopher Keith Irvine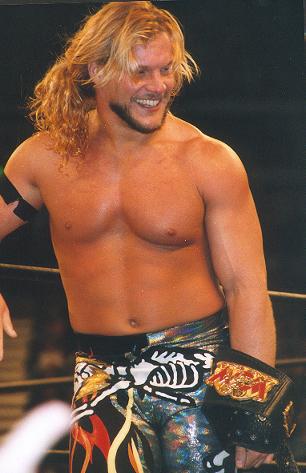 Jericho is another one of my favorites! Y2J's character is so awesome to me. He can be an asshole at times (GBA 2008, sheesh), but he's funny and an incredible wrestler so it's balanced ( lol ). Sometimes I myself enjoy calling him an ass clown. But seeing his entrance video start up always makes me say 'let's go!' because it's instantly recognizable and I know it means a good match is coming up. He has some of the most undeniably iconic promos and his work on the mic has always been amazing, which is a common theme among my favorites haha. As time goes on I kinda like him less but he's been around for so long and I loved him from so early on that he's still one of my favorites. Stan his band Fozzy and the Talk with Jericho Podcast tbh.
His birthday is November 9th (a Scorpio; apparently a lot of my favs are water signs. Who knew?)
Signature moves: Walls of Jericho, Lionsault, Codebreaker, Liontamer, Breakdown.
Rob Van Dam aka Rob Szatkowski
A former-ECW superstar, RVD is genuinely one of the most awesome dudes in wrestling. Unlike some of the guys on here like Jericho or Christian (still my babies, don't get me wrong), RVD is never annoying or a dick to people! Not to mention the fact that he's a stoner and not afraid to show it. What a king. The fact that he based his entire persona off looking like Jean Claude Van Damme, learned all the martial arts skills, and practices them expertly in his moveset makes him one of the most unique and badass wrestlers out there. Watching him fight is so exciting, and he embodies the type of fast-moving technically skilled wrestlers that I love.
His birthday is December 18th (a Capricorn, like my moon).
Signature moves: Van Daminator, five-star frog splash, rolling thunder, monkey flip, chair surf.
Rey Mysterio aka Oscar Gutierrez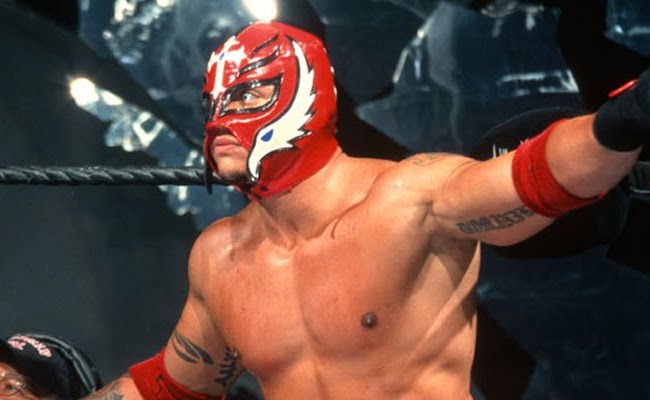 Rey-rey is a luchador king! A lot of my favorite wrestling moves are crazy leg stuff and when they fly around and that's exactly what Rey does. His matches are always so fast-paced and engaging; something is always happening and I love rooting for him. Cruiserweight fighters overall are some of my favorites because they can do like, frog splashes and frankensteiners and all that crap so easily. It's awesome! Besides being a talented king, Rey's interactions with fans always brighten my day. It's so obvious that he loves what he does so much just like his late best friend Eddie Guerrero did. Also, the mask is iconic and I love it. Cultural reset.
His birthday is December 11th (also a Capricorn!).
Signature moves: 6-1-9, Mysterio-rana (often a counter to a powerbomb), rolling roundhouse kick, springboard crossbody, headscissor takedown.
'Latino Heat' Eddie Guerrero aka Eduardo Gory Guerrero Llanes
Eddie (rest in peace) was one of the best wrestlers to come out of the ECW. Seeing his rapid-fire fighting style is always so impressive and he's always a joy to see on-screen in general! Latino Heat is definitely one of the most renowned wrestlers today and he's so deserving of it. He inspired so many young wrestlers to become who they are today. Seeing the reactions of his close friends Rey Mysterio and Chris Benoit as well as several others following his death is so heartbreaking to me. He touched so many people's lives with his genuine love for what he did and I miss him.
His birthday was October 9th (another Libra king).
Signature moves: Frog splash, Hilo, Gory special, Lasso from El Paso, Three Amigos.
Booker T aka Robert Booker Tio Huffman
An absolute icon and king for the ages! Booker T has one of the best entrances in WWE history. Hearing the 'can you dig it, suckah?' gets me so hyped and ready to root the hell out of him for a match. Not to mention the spinaroonie: one of the most iconic taunts ever? I think so. Booker is also so hilarious on commentary. This dude will make up the most absurd phrases ever and they always hit no matter how stupid they are ("NO BREAD, NO WATER, JUST MEAT." and "SHUCKY DUCKY, QUACK QUACK" are among my favorites, as well as "mmmmmm" and "I'm black snow!").
His birthday is March 1st (a Pisces).
Signature moves: Spinaroonie, Harlem Hangover, axe-kick/scissor-kick, 110th Street slam, Harlem sidekick

'Legend Killer' Randy (Keith) Orton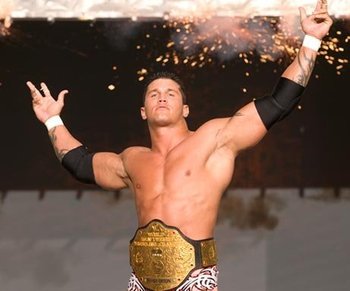 Randy is a peculiar character for me. When I watched him as a heel in the early 2010s a few months ago, I really didn't like him. But seeing him be introduced and join Evolution and slowly grow his persona was awesome! I've slowly come to like the guy, and find myself rooting for him often. Not to mention his entrance song fucking smacks. The RKO (fondly called the 'pp nuts' by myself and Jack) is one of the best signatures out there.
His birthday is April 1st (an Aries).


Signature moves: RKO, rope-hung DDT, punt kick, inverted headlock breaker, superplex.